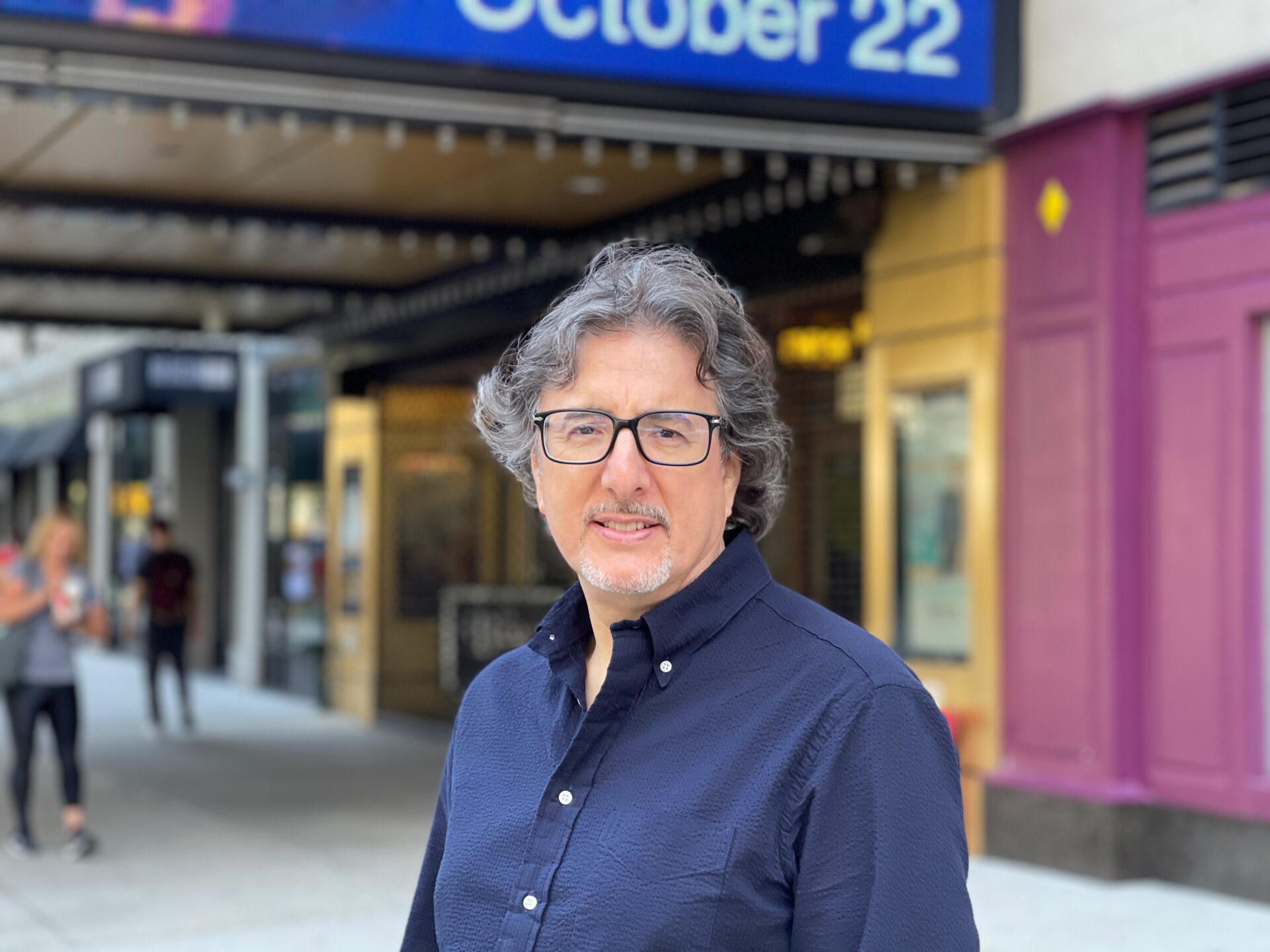 M
arc Myers is a regular contributor at The Wall Street Journal where he writes on music and the arts, and interviews leading film and TV actors and pop musicians. He is the author of the critically acclaimed books Anatomy of 55 More Songs, Rock Concert, Anatomy of a Song, and Why Jazz Happened. He posts daily at JazzWax.com, a three-time winner of the Jazz Journalists Association's award for Jazz Blog of the Year. He lives in New York City.
ANATOMY OF 55 MORE SONGS (2022)

"Entertaining tidbits and insights infuse the second volume of Marc Myers's eclectic array of musical hits. One of the real joys here is in the way that those interviewed are so expressive and generous with their unalloyed admiration for fellow artists. 'Anatomy' is an enjoyable musical interlude — you inevitably sing the songs in your head as you read these stories."
—Daneet Steffens, The Boston Globe
"In his interviews with the songwriters and collaborators like producers Tony Visconti and Bob Ezrin, Myers brings you backstage for an incredibly detailed view of their inspirations and creations. These are engaging narratives that are dressed up with offbeat trivia that will make you the star conversationalist of any cocktail party."
—Sal Cataldi, NYSmusic.com
"Music journalist Myers details how 55 famous songs were conceived, written, and recorded in this perceptive follow-up to 2016's Anatomy of a Song. Myers provides a brief introduction to each of his picks, and their composers, musicians, and producers share stories behind each song, as well. There are surprising details about musical arrangements (composer Burt Bacharach, who worked on Dionne Warwick's "Walk on By," had one piano play in the verses and two in the chorus), and insight from artists about their lyrics: Jackson Browne's "Doctor My Eyes" became a "metaphor for lost innocence" but was inspired by an eye infection Browne had and a trip to the ophthalmologist; Pat Vegas, Native American rock band Redbone's bassist, arranger, and coproducer, envisioned "Come and Get Your Love" as a song that showed that Native Americans were "about love, not about massacring"; and Tommy James and the Shondells' "Crystal Blue Persuasion" took shape after James read a poem about the Book of Revelation. Myers has a knack for capturing the artistry of songwriting and easily shows why these tracks are "iconic but not tired." This melodic collection will strike a chord with music fans. Agent: Glen Hartley, Writers' Representatives. (Dec.)
—Publisher's Weekly
"Wall Street Journal arts reporter Myers continues his explorations of the kind of popular music that turns from melody to earworm. Myers does a fine job of getting behind the hits. Sometimes there's only one person to reveal a story... other songs use different viewpoints, as with the six interviewees for Donna Summer's "On the Radio." With snippets of business, creativity, techno-wizardry, and raw emotion, a pleasure for music fans.
—Kirkus Reviews
"Insightful... Myers blends research and personal interviews with artists, songwriters, arrangers, producers, and others to create an appealing mix of pop music classics...Each entry begins with a crisp black-and-white photo of the song's artist, and, like an album's liner notes, thees pieces provide context and the backstory for each selected song. Pop-music fans of a certain age will enjoy this collection and might even use it as a playlist."
—Library Journal
Extending his well-received Anatomy of a Song (2016) to a second volume of entries culled mostly from his Wall Street Journal column, Myers says he looks for iconic "but not tired" hits, tunes that influenced pop music, and songs "with corners that long puzzled readers," like, say, the mentor who Kenny Rogers envisions when singing "The Gambler": Ray Charles. In a format identical to the first book, entries here are in chronological order, dating from 1964 ("Walk On By") to 1996 ("If It Makes You Happy") and include "Rocket Man," "Sunshine Superman," "The Weight," "Truckin'," "Fly Like an Eagle," "Highway to Hell," "The Devil Went Down to Georgia," "Don't Stop Believin'," and "Burning Down the House." Ephemeral, yes, but these songs are still shared by billions worldwide, and Myers adds important context by interviewing and extensively quoting the principal artists, composers, and producers. Especially recommended for collections where the first book found favor.
— Alan Moores, Booklist
ROCK CONCERT: AN ORAL HISTORY (2021)
"Rock Concert is an honest, introspective book about a business badly in need of people of Myers's caliber to ensure that the history of the live music business is preserved in compelling works of history like Rock Concert."
—Billboard

"Rock Concert goes behind the scenes with the people who made the biggest shows happen."
—The Washington Post
"Everything in Rock Concert is a good piece of reporting: even-handed, non-judgemental, and the work of an independent mind rather than a camp follower—generally unheard of in rock books. I certainly can't think of another that turns the same open gaze on Bob Weir, Alice Cooper and Fred Rosen. No good guys in your reporting, no bad guys—and then in the book's Epilogue, you very succinctly say what's been won and at what cost. A book by an adult writing for adults."
—Fred Goodman, Rock on Film author
"If your partner loves rock music, gift them this book. Or, read it yourself and then impress them with your in-depth knowledge of the history of rock concerts."
—The Zoe Report
"Providing excellent context, [Myers has] assembled a narrative whose themes include politics, geography, economics, class, and race, as well as the music itself. And while he necessarily covers familiar territory—the Elvis phenomenon, Dylan plugging in, Woodstock, Altamont—he comes at those watershed episodes from fresh angles, as we hear throughout from promoters, fashion designers, roadies, photographers, and so on...The oral-history approach can be a kick when the voices are engaging, as they frequently are in Rock Concert."
—Air Mail

"Marc Myers sets out to uncover the history of this compelling phenomenon, weaving together ground-breaking accounts from the people who were there."
—Roky Erickson, Record Collector News

"Rock Concert is one of the best books on music to come out recently, and its pure first-person, direct quote narrative is the ideal format to tell the story."
—Bob Ruggerio, Houston Press

"Marc Myers has marshaled an army to tell the free-wheeling story of the growth of this entertainment staple. His book is a well-ordered oral history weaving through decades of fascinating facts and anecdotes… Myers is a music journalist who digs deep and tells a tale clearly."
— Sal Cataldi, NYSMusic.com

"Rock Concert chronicles a remarkable 35-year run of rock concerts... This revealing, nicely crafted account of rock performers from Bill Haley and His Comets to Pink Floyd will appeal greatly to nostalgic rock fans."
—Joseph Barbato, New York Journal of Books

"Myers does a great job of examining all the aspects that helped concerts develop. Even if concerts aren't what they used to be on a societal level, they aren't going away anytime soon. And thank goodness for that."
—Gary Schwind, Glide Magazine

"The voices and memorable concerts that comprise the oral biography provide an illuminating retrospective of cultural happenings that meant so much to so many."
—Thomas Dimopoulos, Saratoga Today

"Your inner rebellious-teen will thank you for reading this book, and your real-life teenage music fan will like it, too. For both of you, Rock Concert will light up your eyes."
—Terri Schlichenmeyer, Marco Eagle, Fla.

"Entertaining. . . Myers' book is not a simple hagiography of rock concerts; it's a story of the development of the rock concert itself, from the 1950s to the 1980s. . . . Reading Myers' anatomy of a rock concert (his earlier book is Anatomy of a Song) is bound to carry readers back to their memories of their favorite concerts and to encourage them to consider why those memories are so enduring."
—Henry Carrigan, No Depression

"Engrossing… starting with the emergence of R&B in the late 1940s and ending with 1985's Live Aid benefit, [Myers] vividly recreates what went on behind the scenes, onstage, and in the crowds with intimate accounts from the people who were there… Eminently entertaining, this is sure to delight rock fans of all persuasions."
—Publishers Weekly

"Rock Concert is a valuable resource that explains how the 1960s did more than spread love. It created our modern concert world."
—Atwood Magazine

"Your inner rebellious-teen will thank you for reading this book, and your real-life teenage music fan will like it, too. For both of you, Rock Concert will light up your eyes."
—Daily Jefferson County Union (Wisc.)

"Music fans of any age and genre will find a lot of insightful information here. Whether it makes you long for rock 'n' roll's good old days—including Woodstock's now historic mudslide—will depend on your own experiences and the memories Myers' text arouses."
—Shepherd Express

"Highly informative... From club gigs in the early 1950s to the Beatles in the early-mid 1960s; from Woodstock in 1969 to Live Aid in 1985; from branding to amplification and lighting; from media coverage to ticketing, Myers and many industry commentators expertly tick them off, one by one."
—Tony Clayton-Lea, Irish Times

"There's plenty of fascinating information to glean from this oral-history examination of the evolution of the rock concert business, from the Wild West '50s to the corporatized '80s"
—Music Connection

"Insider info about how rock concerts evolved [and] how a particular series of events led to the arena shows we know and love today"
—Consequence

"A multifaceted account of the rise of the rock show from the birth of the genre until Live Aid in 1985…A revealing, absorbing book for those who keep their old ticket stubs close at hand."
—Kirkus Reviews
ANATOMY OF A SONG (2016)

"Each story in Anatomy of a Song is a pleasure to read and will deepen your listening experience . . . Myers bears down hard on these songs and the artists rise to the standards he sets."
—New York Times Book Review

"Forty-five tales of jukebox genius . . . A smart, gracious book."
—Washington Post
"A first-rate playlist . . . a rich history of both the music industry and the baby boom era."
—Los Angeles Times Book Review